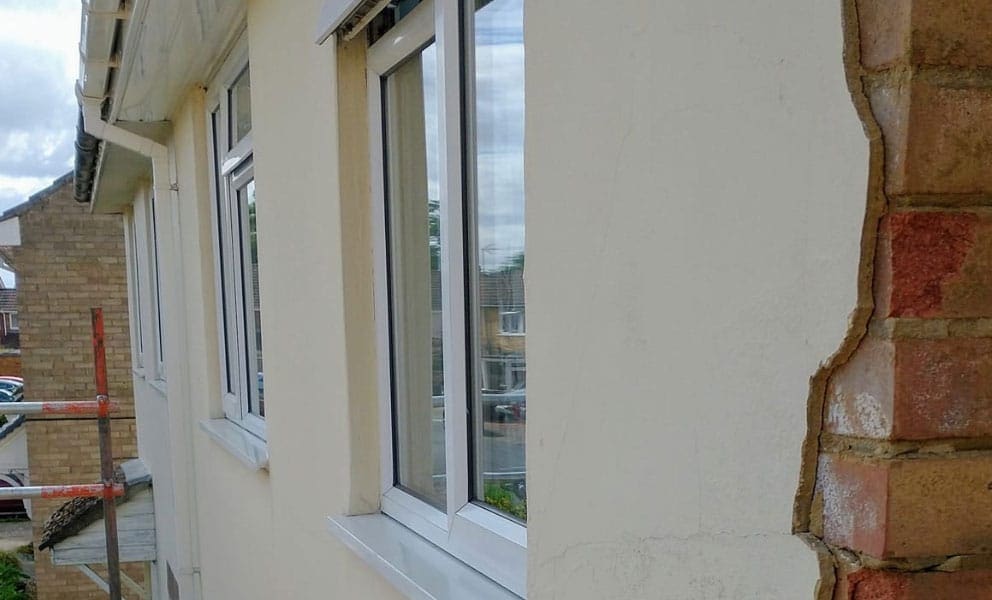 If something needs doing on your property and you want to save money, it's only natural to ask whether you can do it yourself – or DIY for short. Decorating, gardening and putting up shelves are amongst the most popular DIY activities. But should DIY render be joining them?
In short, the answer is no. In this post, we'll discuss how DIY render works and why it won't cut the mustard for your walls.
How does DIY render work?
DIY render products are available at most home improvement retailers like B&Q or Wickes. If you wanted to try your hand at it, you'd also need the right trowels and some rendering tape to create smooth lines around windows.
The fact that all of these are readily available leads some people to believe that rendering is something they can tackle themselves.
Technically, that's true – you can attempt rendering yourself. However, it's highly difficult, extremely time consuming and – ultimately – doesn't give you good enough results. In truth, rendering takes specialist training and years of experience to get right.
Here's what you can expect from a DIY render job…
Appearance
One of the main reasons to use render on walls is to provide a smooth, uniform finish that looks great. DIY render simply won't give you that same impressive appearance. You'll end up with walls that are uneven, rough and patchy.
Protection
Aesthetics aside, render is used to protect walls from the elements. Coating the entire wall stops water from getting to your brickwork and, in turn, prevents moisture ingress and damp. With DIY render, you'll struggle to achieve the same level of protection, meaning water could get through.
Longevity
On top of everything else, DIY render won't last. From the preparation of walls to the right amount of render, there are many secret details that come naturally to professionals. Getting one or several things wrong will inevitably lead to a substandard job which cracks and comes away from your wall in a few months or years.
False economy
The one advantage of DIY render is supposedly that it saves you money compared to a professional job. But if you have to replace it time and again, are you really saving anything?
Leave it to the experts
The verdict is in on DIY render – and it's a big no from us. At CorkSol, we understand the importance of skill, experience and training when it comes to applying render. That's why we have a National Network of Approved Applicators, who have exclusive access to our products.
All our applicators are fully trained in the unique spray application process for both external and internal walls. That's the only way we can ensure the best results for properties across the UK – including thermal insulation, noise reduction and water resistance – alongside a 25-year guarantee.
If you would like to find out more about our innovative SprayCork solution or be put in touch with your nearest Approved Applicator, simply contact us today.
Photo credit: Nu-Facades Ltd External Wall Coverings