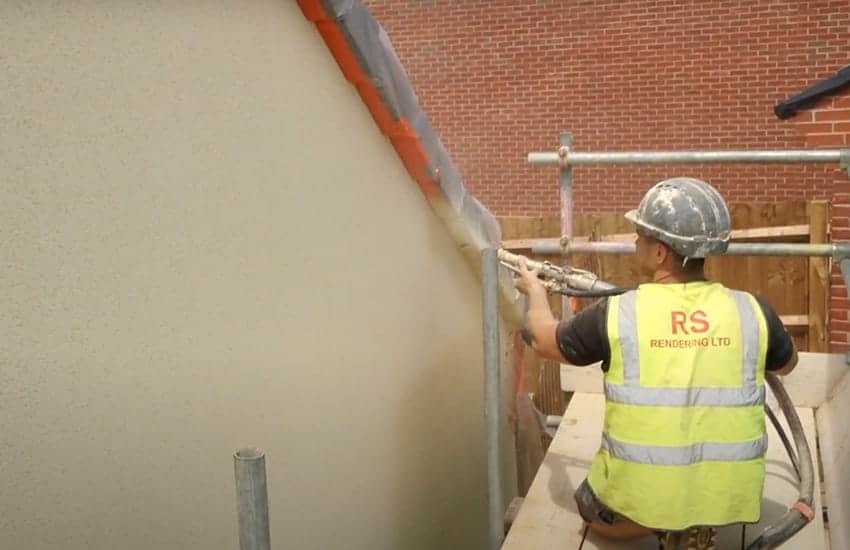 Cracked render is hard to ignore. Not just because it's an eyesore, but because it can eventually lead to water ingress and damp inside your property. That's why repairing cracks in external rendered walls is so important.
In this post, we'll look at some of the options available and which is best for your walls.
Re-rendering
Technically speaking, render crack repair isn't possible as the render itself can't be repaired once it's cracked. Instead, the render needs to be knocked off the wall and replaced with a completely new layer.
Obviously, this option is time consuming and expensive, especially if you're just concerned about a few cracks. Not to mention that it leads to lots of unnecessary waste with all the existing render going to landfill.
On top of all that, it's hardly the best option for longevity. After all, what's stopping the new render from cracking again further down the line?
Render crack fillers
One of the most common alternatives for render crack repair are fillers. They come in a range of guises, such as masonry filler, silicone render and repair mortar.
Unfortunately, the reason they're used so frequently is that these fillers seldom last. By simply filling the cracks, there's nothing stopping more cracks from emerging on the rest of the rendered wall.
The other issue is they're far from invisible. While they might stop moisture ingress in the short term, render repair fillers will leave walls looking even more of an eyesore than the cracks they have filled.
Cork coating
Fortunately, there is an alternative to tearing off the old render or filling in the cracks. Renewing your existing render with an exterior wall coating can provide the appearance and function your walls need.
There's no need to remove the existing render and start again, meaning less labour and lower costs. That also eliminates the unnecessary waste. By recoating the whole wall, you also get a consistent finish that doesn't look patched up.
Crucially, it's a long-lasting, effective option. The coating will stop water ingress and prevent your render from cracking any further. Exterior wall coatings are also naturally flexible, so they can cope with the natural movement of the building. That means new cracks won't appear.
Time to repair your cracked rendering
Looking for a way to repair cracks in rendered walls? As the only supplier who provides a warranty for work over the top of existing renders, Corksol offers the most effective way to cover cracks in render without leaving visible repair patches.
With an expected lifespan of over 20 years and a choice of colours, our exterior wall coverings combine style and performance to make your cracked render worries a thing of the past. Contact our team today to arrange a quote from an approved local specialist.