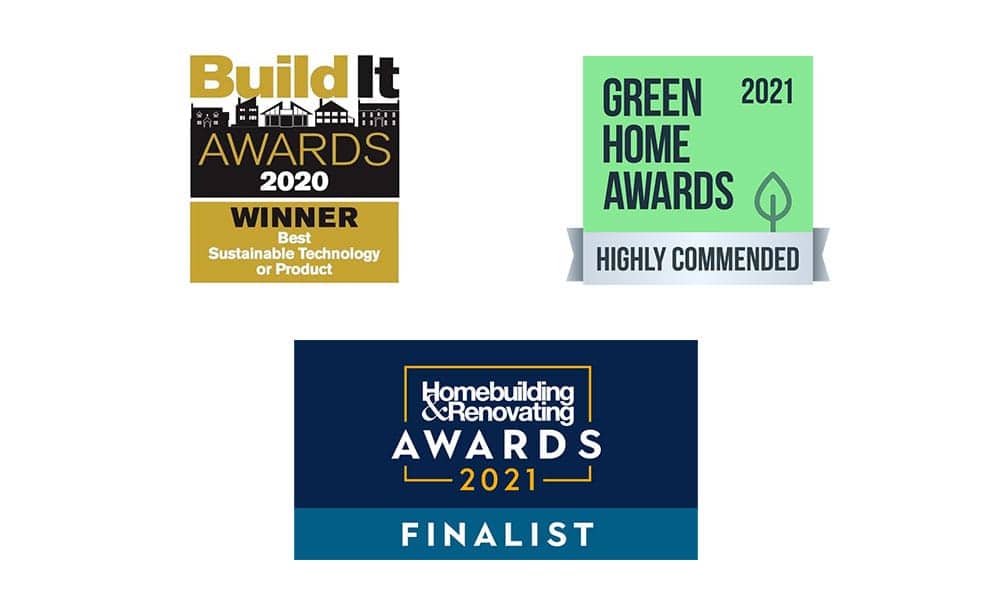 At Corksol, we're dedicated to improving the energy efficiency of residential and commercial buildings using our natural, cork-based sustainable coating.
For us, there's no better accolade than great feedback from customers who've seen their insulation improve, their energy bills drop and their problems with damp and mould eradicated.
That said, it's also great to be recognised at industry-level with a number of awards and nominations. In this post, we'll take a closer look at three honours from the past year.
Build It Awards – Winners
2020 will be memorable for a number of reasons. But it's nice for us that one of them will be the 2020 Build It Awards. Corksol's Thermocork coating (SprayCork) was nominated for the Best Sustainable Technology or Product category alongside some truly great candidates:
Gartec – Aritco HomeLife
Grohe – Blue Home Duo
Solarwatt – Complete PV Package
At the end of November, we were confirmed as the winners, with the judges highlighting SprayCork's excellent use of a renewable resource. Cork, which is the key ingredient in our natural render, requires no trees to be felled. Instead, the bark is stripped and regrows over the course of around nine years – absorbing lots of carbon in the process.
Green Home Awards – Commended
The Green Home Awards is another award scheme which recognises sustainability amongst manufacturers and suppliers in the construction and renovation industry. Launched by Homebuilding & Renovating, the inaugural awards suitably coincided with Earth Day 2021.
The awards featured a variety of categories, from green innovations to ventilation systems. A number of outstanding companies and products were awarded and commended based on several criteria:
Uniqueness in the market
Performance / efficiency
Environmental accreditations
Overall value
Suitability for use
Sustainable production methods
Corksol is delighted to have received commendation for the category of Best Natural Building Material. We truly believe SprayCork is a revolutionary building product, which can be used on external walls, internally and even on roofs. It's great to have commendation which backs that belief.
Homebuilding & Renovating Industry Awards – Finalist
Away from their newly launched Green Home Awards, Homebuilding & Renovating is one of the UK's most influential brands when it comes to residential building and renovation. They've been around for over 30 years, and as a result, their annual Industry Awards are highly sought after for suppliers and other companies in the sector.
While sustainability is taken into account, these awards focus on quality of products and services more broadly with a wide range of categories from door supplier to house designer. We're over the moon to have made the final 2021 shortlist for our category, Render & Cladding Supplier of the Year. Winners will be announced at a virtual awards ceremony on 1st July – and we can't wait to hear the results!
Award-winning products and services
With a national award, commendation and final shortlisting in the past year alone, it's fair to say Corksol and our flagship SprayCork are taking the industry by storm.
We're continually looking to improve our products and expand our National Network of Approved Applicators, who are fully trained to apply Corksol products to the highest standards.  So – fingers crossed – we'll be seeing even more nominations, awards and commendations in the future. Watch this space!