Decaying render is a common problem for coastal properties, which are subject to serious battering from the seaside elements. The problem? Masonry paint simply isn't up to the task, while re-rendering is lengthy, costly and susceptible to damage by sea salt.
That was the dilemma faced by a recent customer in Castletown on the Isle of Man. Fortunately, they spotted our ad just in time, and got in touch about our innovative Corksol exterior wall coating.
Close to the sea
Situated on the Castletown Promenade, it's fair to say our customer's house was bearing the brunt of the coastal weather. Having been rendered two years earlier, it was already seriously decayed from the salts and elements. Needless to say, the owner was looking for a longer-lasting coating solution.
With a house so close to the sea that seaweed actually sticks to it, a cement-based product simply wasn't practical. Like the existing render, it would deteriorate within a couple of years and require another lengthy, costly repair job.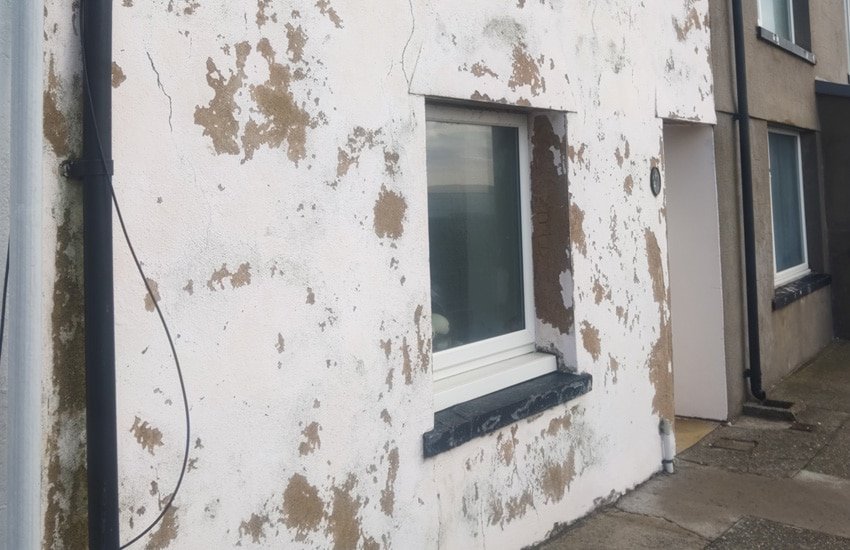 Our natural cork solution
Drawing on the natural weather-resistance of cork, our innovative cork coating was the perfect alternative for the Castletown home. Cork, being the bark of the Mediterranean Cork Oak tree, has evolved for millions of years in coastal settings, giving it a totally natural resistance to salty conditions. As well as protecting the property from the weather, it would provide thermal insulation and breathability that are both vitally important for a classic Manx stone building such as this.
All that said, our customer still wanted the reassurance of a warranty – completely understandable given how quickly her render deteriorated. Our 15-year guarantee provided that much-needed peace of mind, with no worries of cracking for years to come.
Installing the exterior coating
The restoration process was completed by Derren Slous and Steve Garaty from the Venetian Plaster Company – a Corksol Approved Applicator on the Isle of Man. The first step was a full acid wash and wipe down to get rid of any salt on the property's walls. The first step of the restoration process was a full acid wash and wipe down to get rid of any salt on the property's walls. We then applied a base of Corksol primer in one thick coat, before finishing with the exterior wall coating.
To give the property the perfect final touch – and extra defence against the elements – we also replaced the guttering and downpipes.
Fantastic results in just a week
The results on our customer's Castletown home speak for themselves. Our cork exterior wall coating has given the property a new lease of life, both in its appearance and function. As well as looking as good as new, it's ready to take on the sometimes-unforgiving coastal weather, with breathability and insulation to boot.
Before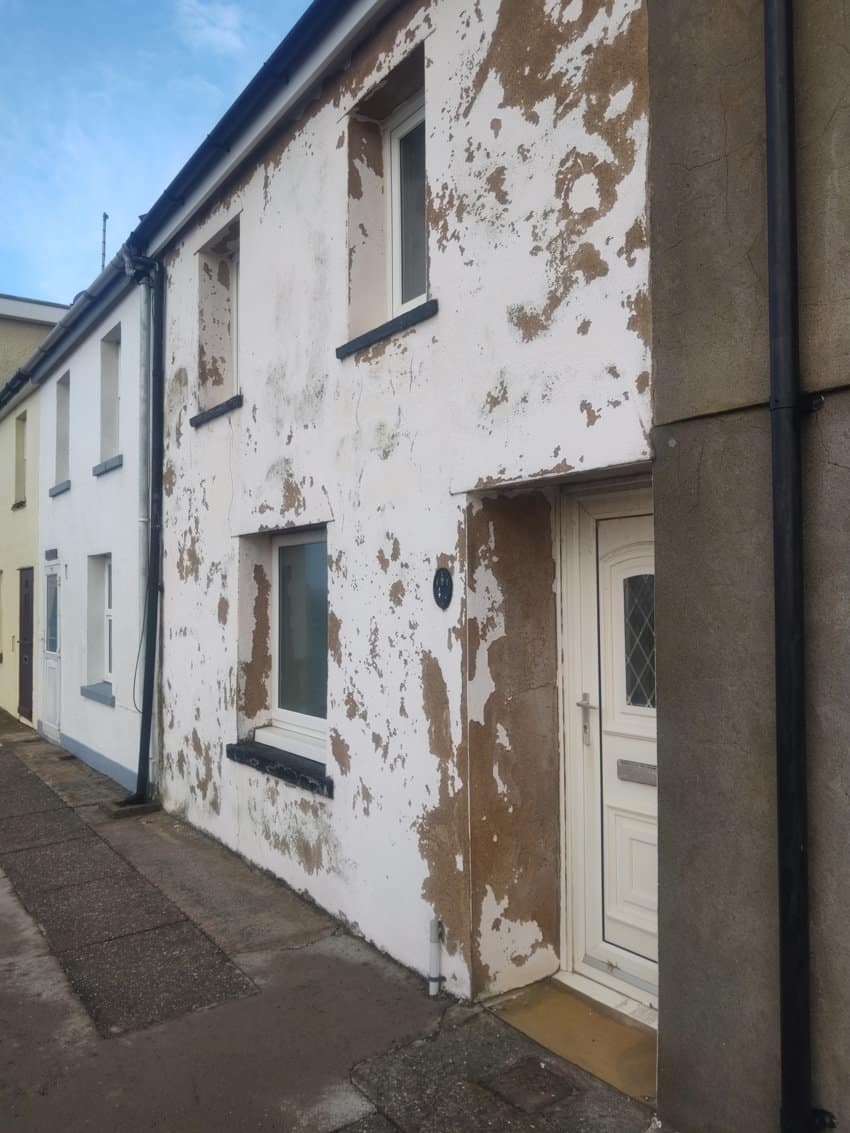 After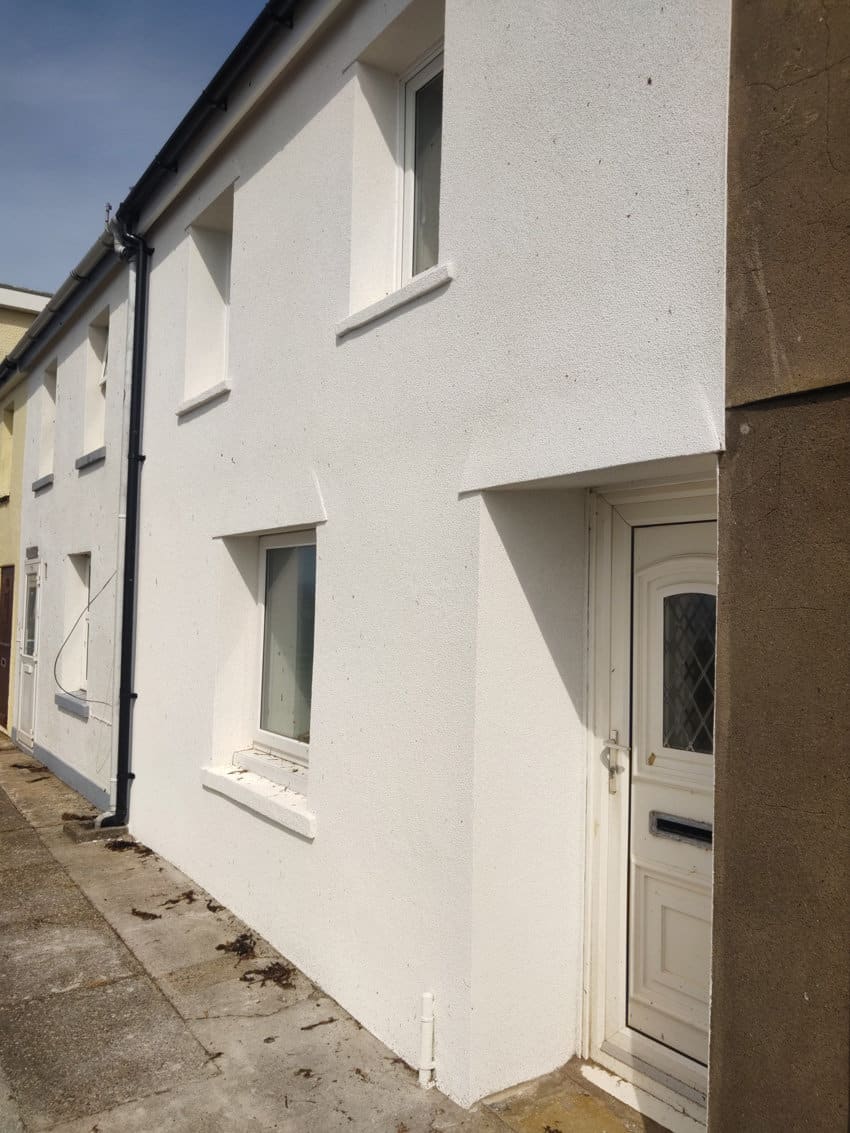 Best of all, the project took just a week, which the customer was delighted with. Rather than having to tear off old render, re-prime the surface and re-render the walls, our natural cork coating process was completed between 3rd and 10th June.
Need help with a project of your own?
If you have a coastal property in need of a long-lasting exterior coating get in touch with our team today for a free no-obligation quote and expert advice from your local approved applicator.
Call our team on 01484 442420 or email [email protected]