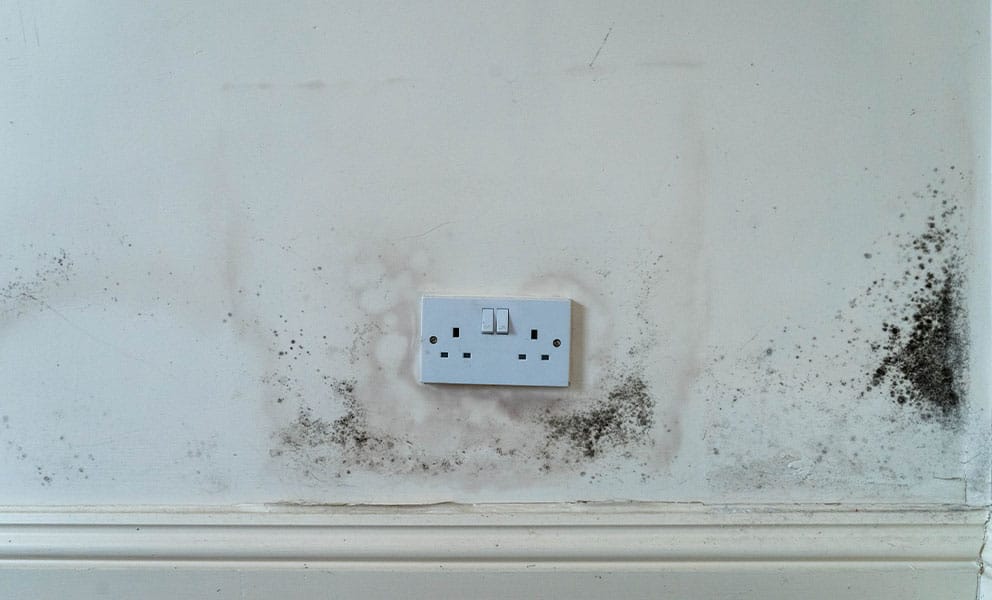 Over 500,000 homes in the UK suffer from black spot mould. Aside from being unsightly, it can contribute to respiratory problems and other health issues. It goes hand in hand with fuel poverty, and a poor quality of life more broadly.
While there are various solutions to black spot mould – from ventilation to simply cleaning and removing mould – none offer the same long-lasting efficacy as SprayCork. Read on to find out why…
How does SprayCork combat mould?
Once mould has been fully cleaned off walls, SprayCork can be applied to make sure it doesn't come back. The fine-grain solution is sprayed on in two 3mm coats. That's topped off with a standard 2mm skim of plaster.
Sounds pretty standard, right? Here's what makes SprayCork so special…
1. Mould-resistant
First and foremost, it works! Cork is naturally mould-resistant and breathable, so it prevents moisture, damp and mould from gathering on walls for good. That means no more worrying about mould coming back, or scrubbing away to clean it off.
2. Insulation
Tests have shown that SprayCork can reduce heat loss through solid walls by up to 30%. That makes the wall itself warmer, so it doesn't attract condensation, but could also create a cosier environment and reduce heating bills.
3. Uniform coverage
Cold bridges are ideal for damp, mould and heat loss. Put simply, they're areas where insulation is insufficient because of poor coverage. Because it's spray applied, SprayCork will cover all areas with no problems, including window reveals and internal corners.
4.  Discreet
As explained above, SprayCork's total depth is 8mm including the skim of plaster. That means, unlike other insulation options, it doesn't eat away at the size of a room. There's also no need to adjust or reposition existing fittings like plug sockets, light switches and radiators.
5.  Quick
On top of all the other benefits, SprayCork application is impressively quick. An entire house can be treated in as little as two days. That's thanks to its fast spray application, as well as our trained network of Approved Applicators.
6.  All natural
When you're combatting mould to avoid breathing difficulties, the last thing you want is synthetic chemicals being released into your home. SprayCork is a natural cork render, so there's no need to worry about indoor air pollution.
7.  Sustainable
Last but not least, SprayCork is eco-friendly. Cork is harvested by stripping bark with no need to fell trees. As the bark regrows over the next 8-10 years, the trees absorb more CO2 than before. As a result, every square metre of SprayCork applied actually offsets 4kg of CO2 emissions.
What are you waiting for?
SprayCork is a fast, natural, discreet and effective solution to eliminate mould for good – with the added benefits of sustainability and better heat retention going forward. Whenever you're ready to combat mould, Corksol's national network of approved applicators is on hand to help.
Contact us today to find your nearest approved applicator and arrange a quote.