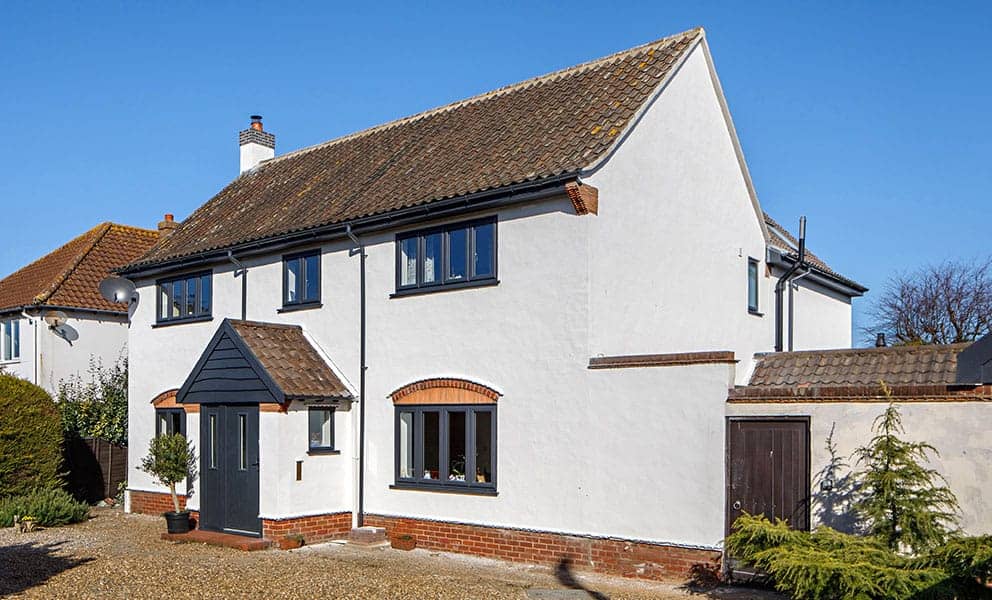 Considering re-rendering your house? Like any home improvement, it's worth weighing up the benefits and considering whether they're worth the cost. To make things easier, we've put together a list of six benefits of a house re-render.
1. Appearance
Nothing beats the smooth, uniform finish you get from re-rendering your house. As you can see from the before and after images in the Corksol gallery, a high-quality re-render can truly transform the appearance of your house – from old and worn to fresh and new.
On top of that, you can find render in a wide range of colours. With Corsksol, you can choose from over 30 colours of render to really give your house a makeover. Or simply opt for a shade similar to your existing render, to get the same look with a smooth, new finish.
2. Less hassle
When old render starts to crack, it's only natural you want to fix or fill those cracks to stop water getting through and maintain your property's appearance. But arranging and paying for those repairs (or even filling them yourself) can soon become tiresome and costly.
A Corksol re-coating will eliminate the need for crack repairs for several years, saving you plenty of time and money in the process.
3. Thermal retention
With render typically lasting between 20 to 40 years, many houses will have render that was originally applied in the 2000s, 1990s or even the 1980s. Building materials have advanced significantly since then, meaning that render can now offer much more in the way of thermal efficiency.
Re-rendering your house will add an insulative layer on the outside of your walls, which makes it harder for heat to pass through while still keeping walls breathable. The result is a warmer home in winter and cooler in winter, so it's easier to maintain a comfortable temperature. You could even save money on your heating bills over time.
4. Noise insulation
It's not just heat that modern render can block. With the right product, noise will find it harder to pass through too. Drawing on the properties of cork, SprayCork render can provide a reduction of up to 12dB in noise.
The result is a more peaceful environment with less noise from traffic, neighbours and any other noise outside your home.
5. Weatherproofing
Let's not forget one of the primary purposes of render – weatherproofing. When render becomes worn and cracked, it's provides less protection for the brick walls underneath it. Over time, water can start to seep through, which creates a vicious cycle with even more cracks and holes.
A Corksol re-coating will ensure your walls are fully sealed from the elements, so you can wave goodbye to problems with water ingress and damp.
6. Value
Finally, there's the value. Re-rendering your house with a modern render product like SprayCork helps you create a low-maintenance property with great kerb appeal that's well insulated from heat and noise and protected from the weather.
As you can imagine, that's a pretty attractive prospect for any buyer, which could result in increased value for your property.
Ready to re-render your house?
Re-rendering a house offers a number of benefits, from visual appeal to insulation. But it's important to find the right product to make sure you can reap all those rewards.
SprayCork is a truly innovative product which offers all of the above benefits and more. Impressive adhesion, high durability, fire resistance – the natural cork-based coating ticks every box. To find out more, contact the Corksol team on 01484 442420.