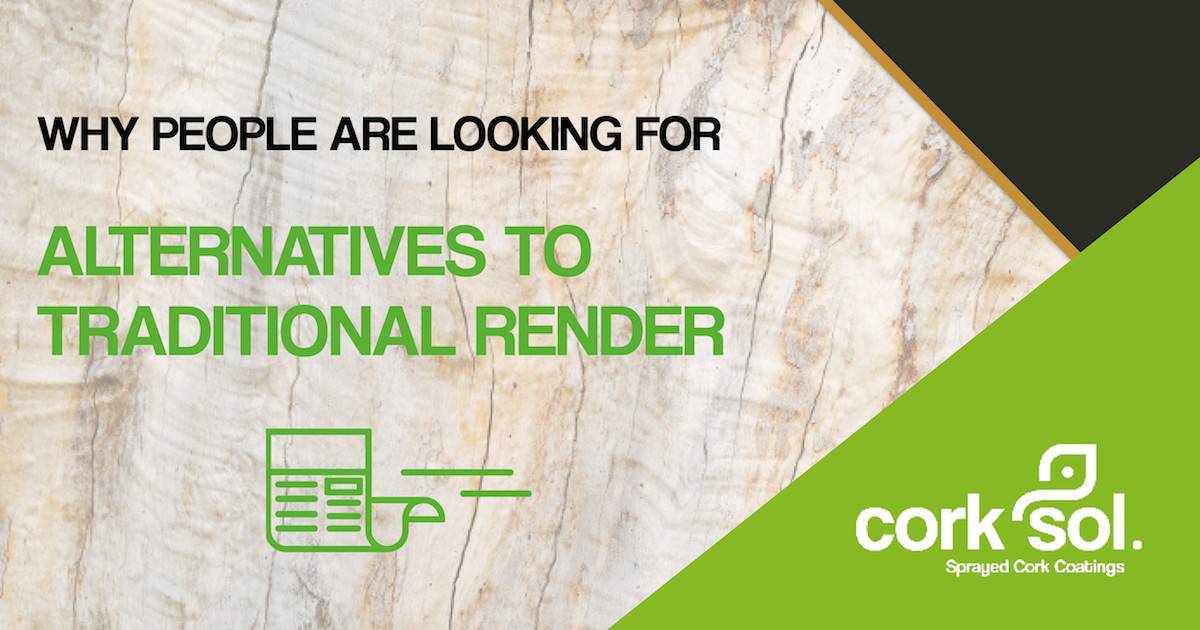 Share the Alternatives to Traditional Render on your favourite Social Media Channels
Why People Are Looking For Alternatives To Traditional Render
In recent years more people have been turning away from traditional external renders in favour of industrious new products that provide better coverage, longer protection and better value.
The Need for Progress
Classic monocouche renders are slowly becoming obsolete in the face of newer alternatives such as cork spray render which has become a more popular choice amongst developers, contractors, architects and homeowners around the UK and the world.
Trends often come on go in the world of property development and design but it's important to look closely at products on the market to ensure you're choosing the right material for the job.
There are a number reasons why so many people are looking for alternatives to traditional renders and here we take a look at some of them.
Environmental issues
Many traditional renders on the market are produced using ingredients and materials that are not environmentally friendly or that cause damage to local ecosystems and the atmosphere.
Monocouche renders, for example, use Portland cement as a binder, which is a non-recyclable product that is not sourced naturally.
With the recent rise in green living and the push by many people and organisations to lead more eco-friendly lives, many homeowners and developers are looking for alternative organic products.
CorkSol Approved by Kevin McCloud as a Green Hero
Corksol SprayCork as a spray cork coating is proudly supported by Kevin McCloud from Grand Designs as one of his Green Heroes
Design Variety
When it comes to design, classic renders offer little in the way of customisability and diversity.
Most traditional renders are made up of the same pigments or are available in a very limited variety of colours.
Enhances Design & Architectural Flexibility
This often means that designers, architects and developers are restricted when it comes to offering their clients a unique and diversified service.
Many people are opting to use alternatives like cork spray render which can make available in a range of different colours.
Longevity
Although traditional renders are designed to be waterproof and provide a long-lasting external coat, many of them eventually begin to deteriorate after an extended period of time.
Avoid the Cracks
The ingredients used in traditional renders mean that cracks begin to appear due to the eventual drying out of the mix, which often leads to increased maintenance costs and repairs.
The lifespan of an external render is an important factor for homeowners and business operators looking to minimise cost and extend the longevity of their property.
Insulation
Traditional renders offer little in the way of thermal insulation due to ingredients that are unable to effectively store or reflect heat.
Energy bills are some of the biggest costs that face homeowners, business managers and commercial developers so for many of them it is vital that they conserve as much energy as possible and cut down their overheads.
A Cost Effective Investment
Unlike modern alternatives such as cork spray render, traditional products are not designed to provide any significant improvement on the thermal insulation of a building.
The cost of rendering large areas of buildings can be costly if you own several properties so it is important for businesses to reduce costs by choosing materials that will save money in the long run.
Wall sound insulation is an important feature for any home or commercial site. As the name suggests, it stops noise getting into your property from outside. In this post, we'll…
There are countless people across the UK looking for "renderers near me". With good reason too. So how do you go about finding them? In this post, we'll discuss the…
Thin coat render is seen as a superior option to conventional sand and cement for several reasons. In this post, we'll explore why it's better, what thin coat render actually…