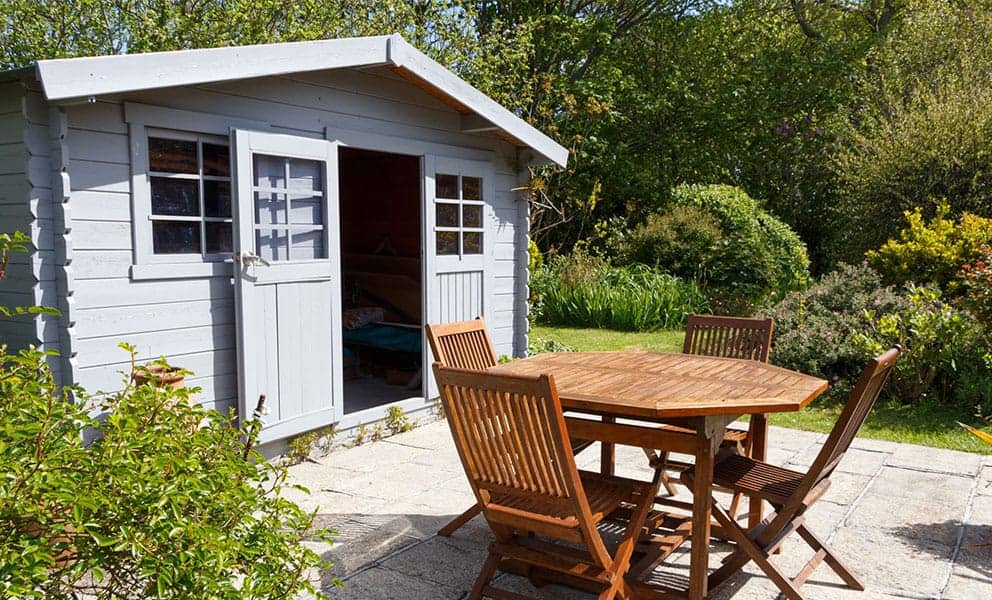 Summer houses are a great option if you want to add a versatile space to your garden. But they can get a little too warm in summer and cold in winter. In this post, we'll discuss whether wall insulation can help and how to get it right.
Does my summer house need wall insulation?
Despite their name, summer houses are often unsuitable for those characteristically warm summer days. When exposed to the sun, their roof and walls are heated up, which eventually transfers to the inside. That's often made worse by heat from sunlight coming through the windows. So, you get shade from the sun but not from the heat.
On the flipside, they're not warm enough for most of the other seasons. While it's not their primary purpose, most people want to use their summer house in spring, autumn and even winter. That's especially true with the rise of remote working. But even with a portable heater, it can be hard to maintain a comfortable temperature.
The problem? In both cases, it's easy for heat to pass through the walls and roof. In summer, that means the sun heats up the summer house. Or when it's cold, any heat inside will easily escape. When installed correctly, summer house wall insulation can lessen both of those effects. Here's how to get it right…
1.       Choose the right insulation
The most crucial step to insulating a summer house is choosing a suitable product. Even with a relatively large summer house, space is going to be at a premium. That makes most traditional wall insulation products – like internal panels – unsuitable because they're so bulky.
So, what about external insulation? Many summer houses are made bespoke to maximise a specific outdoor space, meaning that bulk can't be added to the outside either. On top of that, there's the effect on the finished look of the summer house, which has a big impact on your garden's design.
A sprayed internal insulation like SprayCork tackles both of these problems. It is applied internally so there's no impact from the outside – and the final coating is just 8mm thick, so it won't eat away at the space in your summer house.
2.       Installation
For the best results, summer house wall insulation should be installed by a professional contractor. CorkSol makes that easier with our network of approved applicators. Each applicator has received expert training to apply SprayCork to the highest standards, so you can rest assured your summer house will be well insulated against heat in summer and cold in winter.
With their know-how, the process is both quick and easy. After being properly cleaned, your walls will get two 3mm coats of SprayCork, before a 2mm plaster overskim.
3.       Enjoy
Voila – your summer house wall insulation is applied. You can enjoy it for many years to come with a 25-year manufacturer's warranty.
Sound good? Contact us today to find your nearest approved applicator or get answers to any questions you may have about our innovative internal coating. Call 01484 442420 or email info@corksoluk.com.