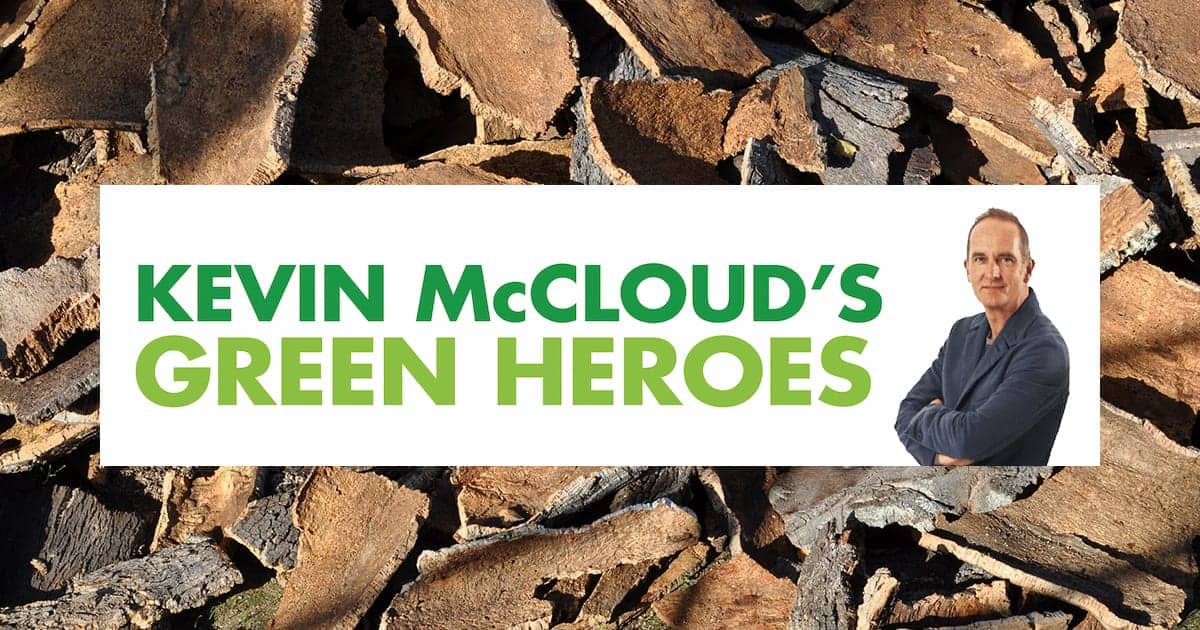 Share How Corksol became a star of the Green Heroes Scheme on your favourite Social Media Channels
How CorkSol SprayCork became a star of the Green Heroes Scheme
Grand Designs & Kevin McCloud
If you've ever seen an episode of Grand Designs or checked out the latest magazines about building developments, you will no doubt have heard of Kevin McCloud.
If you are familiar with the famous celebrity designer and architectural guru, you'll be aware of his passion for eco-friendly and innovative new building materials.
Here is what Kevin had to say about CorkSol SprayCork
"Cork is a fascinating material with excellent acoustic and thermal insulation properties.  Its antifungal and resists rotting; it 'breathes', transpiring moisture; it will compress to form a tight gasket (think wine bottles); and it's sustainable, in fact Europe's cork production, in Portugal for example, needs our support.
Now it's been turned into an insulating, breathable, elastic, sustainable render for buildings. Something that's been missing from both the conservation and the eco building markets. Magical." – Kevin McCloud
The Green Heroes Scheme
He set up the Green Heroes Scheme to promote and raise awareness about new products and ideas being developed to develop more eco-friendly and sustainable building projects around the world.
The Grand Designs exhibition has taken place in Britain for a number of years and, at each show Kevin traditionally selects his top picks for green materials.
The 2016 Green Heroes Scheme saw CorkSol SprayCork named as one of the best eco-friendly materials currently on the market.
Cork spray render has been used for years but it's only just starting to become a favoured insulating materials thanks to its environmentally friendly properties.
Here, we take a look at what exactly CorkSol SprayCork is, the green credentials that make this an award-winning product and why Kevin McCloud has taken such an interest in it.
What is CorkSol SprayCork
CorkSol SprayCork is a type of spray render which uses natural ingredients to create a weather-proof coating for external and internal walls.
What sets this particular render apart from traditional products is its unique versatility and the creative freedom that it gives designers and architects.
CorkSol SprayCork has a much longer lifespan than most other renders despite being made entirely from natural ingredients.
This is why the industry, and Kevin McCloud's Green Heroes Scheme, has taken such an interest.
It's a rare occurrence in the building and design industry to find products that are more practical and more environmentally-friendly than mainstream alternatives.
CorkSol SprayCork can be used as a thermal insulator and also has audible insulation features that make it suitable for a number of environments and structures including commercial and industrial buildings.
Benefits of CorkSol SprayCork
CorkSol SprayCork render is naturally more resilient to harsh weather conditions which is why it requires less maintenance than other popular options.
This is why many homeowners commercial property owners have begun to use it. Not only has CorkSol SprayCork helped developers and property owners to save money, it has also provided a greener option for those conscious about the environment.
It should come as no surprise then that it's turned many heads in the building and development industries.
CorkSol SprayCork's natural, eco-friendly materials and long lifespan mean that maintenance costs can be reduced while providing an alternative to designers conscious about reducing their carbon footprint.
CorkSol SprayCork as a Green Hero
The 2016 Green Heroes Scheme has seen a multitude of different miracle materials make their way to the top of every designer's wish list.
Kevin McCloud has spent the year looking for innovative new ideas that provide green alternatives and help to reduce the effects of global warming while also reducing the effect that building developments have on the environment.
CorkSol SprayCork was a particular product of interest at the 2016 Grand Designs exhibition and has been recognised for its numerous eco-friendly properties.
When speaking about the new type of render, Kevin McCloud praised CorkSol SprayCork for its high-quality thermal and audio insulation properties.
He talked about how the material allows structures to breathe while providing resilience to external conditions.
Ten of The Best Green Heroes
With just ten spots available, it says a lot about CorkSol SprayCork that it was chosen to be part of the Green Heroes Scheme.
There were a number of other materials and projects chosen which also illustrate the amazing creativity of designers when it comes to creating eco-friendly alternatives and pushing the industry towards a greener future.
Other Green Heroes
The 2017 Green heroes revealed are, you can link through to their sites, simply click the list below.
Durapalm

Transparent Speaker

The Used Kitchen Company

Piñatex

Egloo

Huskee Cup

Coffee Logs

GIY MycoFoam

Light Earth Blocks
Claire Potter Design
At CorkSol our favourites from the Green Heroes featured products was HuskeeCup. This is a set of cups created using coffee husk, a by-product of the coffee milling process which usually goes to waste.
The natural ingredient has been used for the first time to create long-lasting products that combine contemporary design with practicality.
Another great example we love of eco-friendly innovation at the Grand Designs Expo came from The Smack.
This project was set up by Claire Potter Design in order to tackle the issue of plastic waste in the ocean.
The collection of jellyfish lights was made using refined plastic bottles gathered from the ocean.
Congratulations to all our fellow Green heroes and to everybody who showcased their amazing products and materials as part of this year's Green Heroes Scheme.
We are excited to be part of a green eco focused community that is being pushed by designers, architects and inventors to create more sustainable products.
It just goes to show that the world is ready to go green and create a global building industry that puts the planet first.
With constant exposure to the wind and rain, rendered walls will always become worn over time. This can lead to discolouration and cracks and creates a risk of further damage…
Retrofitting social housing is a way to make existing stock more energy efficient. But not everyone is clear on why it's necessary or how to go about it. In this…
There are over 900,000 properties in England alone suffering with damp. Flats are certainly no exception. In fact, many suspect the opposite when inspecting problems with damp and mould in…