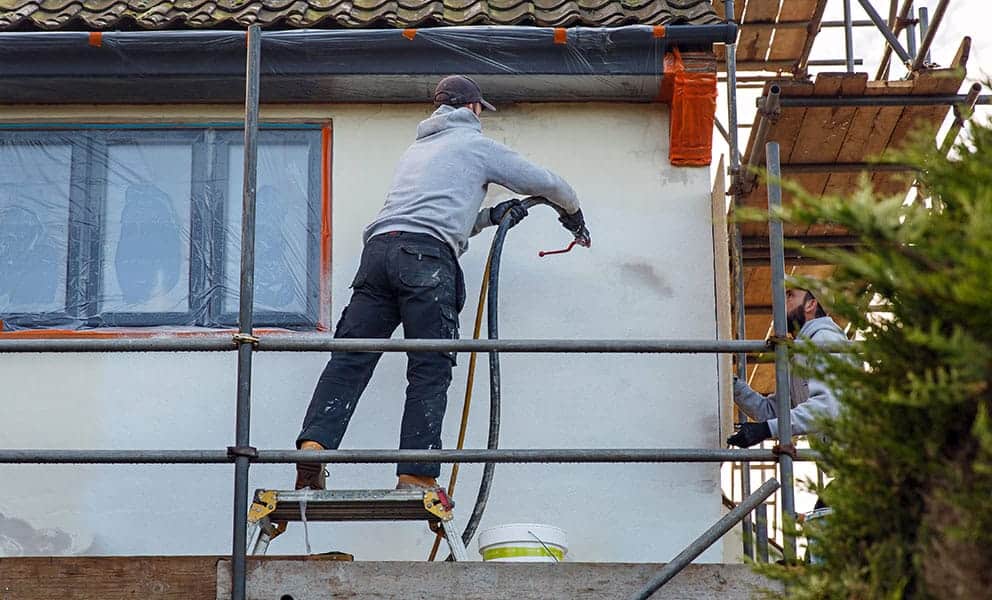 At Corksol, we're not afraid to shout about SprayCork and the amazing results it can provide. But as a relatively new product in the construction and home improvement world, we understand that lots of people might still be unfamiliar with our flagship product.
In this post, we'll take a closer look at what exactly SprayCork is, including where it comes from, how it's used and its unique properties…
What is SprayCork?
As a general overview, SprayCork is a cork-based coating for external and internal use on residential, commercial and industrial buildings. It's made up of organic cork granules suspended in water-based, solvent-free resins. That's supplemented by small amounts of mineral fillers, stabilisers and inorganic additives.
Where does it come from?
As mentioned above, the majority of SprayCork's formula comes from organic cork, which is 100% natural and sustainable. Cork grows in coastal areas of the Mediterranean, with 80% of the world's cork coming from Spain or Portugal. Covering 2.2 million hectares globally, mature cork forests prevent desertification and make a significant contribution to biodiversity.
Most importantly, no trees are felled to obtain cork. Instead, the bark is stripped and the tree regenerates it over the course of around 9 years. In doing so, it continues to absorb carbon dioxide, with over 180 million tonnes of CO2 absorbed by cork each year. As a result, cork is actually carbon negative.
To top it all off, the cork industry employs around 30,000 people. Cork harvesting is one of the highest paid jobs in the surrounding areas, so it's ethical as well as natural and sustainable.
How is it used?
SprayCork can be used as an external top-coat and internal insulating solution for new and existing residential projects, as well as commercial and industrial builds. The spray is applied by approved applicators, onto walls and roofs for a variety of purposes:
Exterior wall coating
Interior wall coating
Industrial roofing – including asbestos encapsulation
Cracked render repair
And many more uses, continually being developed by sustainability-conscious architects
What are its properties?
Finally, onto the properties which set cork and SprayCork apart from other materials. Made up of microscopic air pockets, cork is a natural thermal and acoustic insulator. As a result, SprayCork offers a significant improvement to any building's thermal and noise insulation. The material's structure also makes it durable, flexible, breathable and weatherproof.
On top of all that, SprayCork has gained some important qualities from the environment cork is grown in. Lining the Mediterranean Sea, cork forests have evolved to be naturally resistant to sea salts. That makes SprayCork an ideal solution for coastal homes which are exposed to salt spray from the sea. The hot climate has also seen cork become naturally fire resistant, with SprayCork meeting both B-s2-do and EN 13501-5 classifications.
Put SprayCork to the test
All in all, SprayCork is a revolutionary product that's natural, eco-friendly and delivers a vast array of benefits to buildings of all shapes and sizes. Whether you're looking to insulate your home or encapsulate asbestos for long-lasting safety, there's an approved applicator ready and waiting to help.
To put SprayCork to the test, get a quote from your local applicator or contact Corksol to talk about your project in more depth.