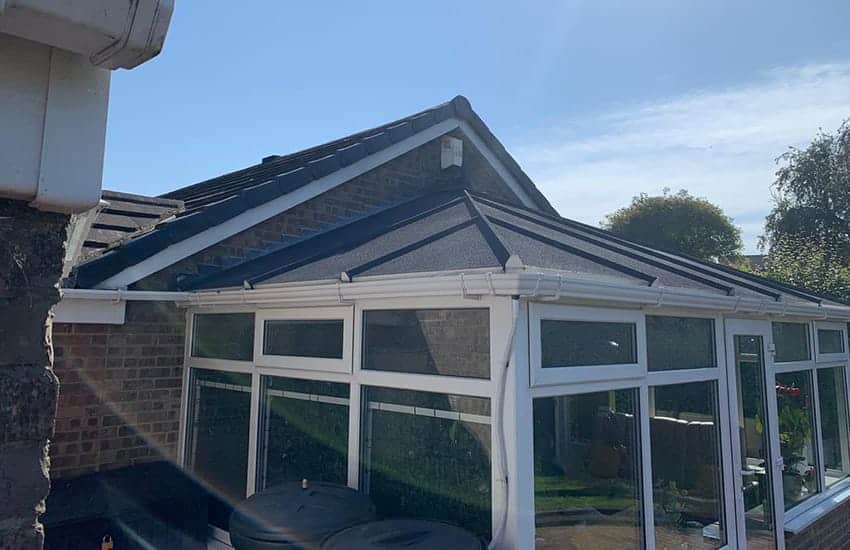 Conservatories are a much-loved feature of homes across the UK. But they aren't without their problems – specifically when it comes to the temperature. A new roof is often seen as the best solution for this, but there's actually a better option when it comes to both cost and performance.
In this post, we'll take a closer look at conservatory problems and how cork provides the ultimate solution.
Conservatories have never been more popular
It's easy to see why conservatories are so popular. They provide more living space without the need for planning permission and with a lower price tag compared to an extension. That space can be used as a dining room, second lounge or just a playroom for the kids.
Another alternative is to use it as a home office. This is something we've seen a lot more in 2020, with a huge increase in working from home. The conservatory is the ideal solution as a dedicated workspace, with every other room usually already accounted for. But there's a problem…
Too hot, too cold, but never just right
The problem with many conservatories is that it's almost impossible to get the temperature right. It becomes bitterly cold in winter unless you're prepared to blast the heating. Then once the sun starts shining, your living space can become almost like a sauna. That's not even considering the noise, with conservatory roofs making the smallest rain shower sound like a monsoon.
In most cases, the problem lies with the roof. Conservatory roofs can bend and contract in the heat, which leads to them letting cold air and even rainwater in over time. On top of that, the conventional glass or polycarbonate panels allow sunlight through, causing your conservatory to heat up in summer – not to mention the unbearable glare. They're also at fault when it comes to noise.
The problem? The cost of a new conservatory roof can be upwards of £10,000. That makes it simply impractical for many homeowners who want a cost-effective solution.
How can cork help?
Cork can be sprayed both internally or externally to improve the performance and appearance of your existing conservatory roof. The naturally insulative material helps to regulate the temperature of your conservatory throughout the year, keeping it warmer in winter and cooler in summer.
The cork coating will provide a fully sealed covering for your conservatory, making the roof completely air- and water-tight. You can even spray the full conservatory externally including the arms to make your conservatory look new again.
Best of all, it's available at a fraction of the cost. Transforming your roof with cork costs roughly a third of the price of a new conservatory roof. That's paired with additional benefits like acoustic insulation, vastly reducing the noise you hear from the weather, which a new conservatory roof simply wouldn't do.

Transform your conservatory with cork
As well as being a cost-effective alternative to replacing your conservatory roof, cork actually works better than a new roof itself. What's not to love? If you're ready to discover the benefits of cork for yourself, find a Corksol approved applicator today.