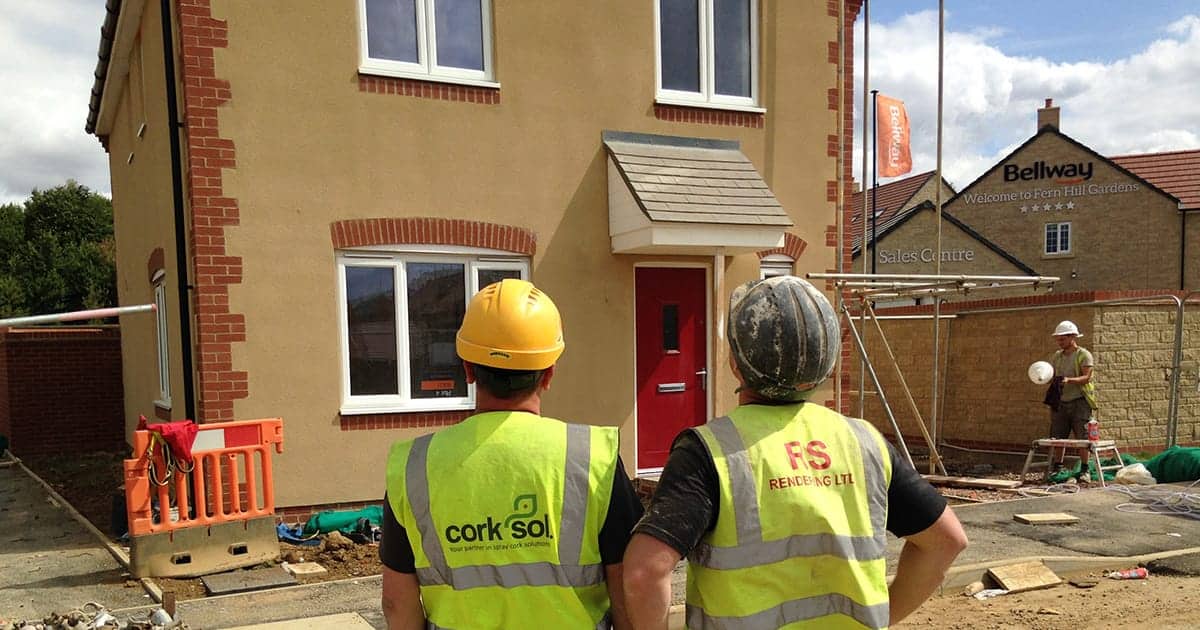 Thermocork vs Monocouche render
In many different industries, whether it's architecture, building development or interior design, contractors and developers are always looking for the best materials that will help to decrease work time, reduce costs and most importantly produce a better and more effective finished product.
For a long time, monocouche renders were the go-to material for many contractors.
However, in recent years many people have begun to move away from the dated render in favour of other solutions such as cork spray.
Here we take a look at the benefits and disadvantages of both materials to help you decide which the more appropriate render is for you or your company.
Monocouche uses as a Render
Monocouche renders have been used to coat the outside of buildings for years and can be found on
Houses

Industrial buildings

Commercial structures.
The single-coat mixture is derived by adding coloured pigments to white Portland cement which is then applied manually via a purpose-built applicator.
Popularity of Monocouche
The reason that monocouche renders have become so popular over the years is down to their low maintenance and long lifespan.
Another benefit of monocouche render is the ability to run pigments through the mixture, making the render available in a wide range of colours.
The external finish has been utilised in a number of environments and is often praised for requiring very few repairs.
Downsides of Monocouche
This lack of maintenance is not infinite, however.
After several years of weathering, monocouche render does begin to show drastic signs of ageing and in many cases, buildings can require a whole new coating at great expense.
This is down to the use of white Portland cement which provides a clean mixture to pass colour through.
A downside to this, however, is that the materials and ingredients used to make the render are often toxic and aren't environmental friendly.

Thermocork Coatings
An established and proven Environmentally Friendly Alternative to Monocouche.
Thermocork is a type of cork spray that has been designed specifically to provide property owners with a long-lasting weather-proof render that provides added acoustic and thermal insulation.
The Benefits of Thermocork
One of the major benefits of using Thermocork is the fact that the render has an incredibly long lifespan.
The natural properties of the cork allow for a waterproof coating that will maintain a solid seal in all types of weather.
Thermocork as a Coating
Thermocork is far more flexible than monocouche and can be used to coat the outside and internal structures of buildings for years and can be found on
Houses

Industrial buildings

Commercial structures

Modular systems

Steel frame structures

Internal linings of building such as agricultural and commercial buildings
The added flexibility of Thermocork with its multi surface adhesion attributes both internally and externally provides a wider use and allows the property owner to maintain their environmentally friendly approach throughout all they internal and external coatings.
Lower Maintenance costs with Thermocork
This means that there's no need for regular repairs or patching and the overall maintenance costs for operating a building or owning a home will be significantly lower.
Another reason many people opt for Thermocork as opposed to monocouche renders is that all of the ingredients used to make it are sourced from sustainable materials.
This means that Thermocork is friendly to the environment and does not use any toxic materials or processes that involved excessive amounts of CO2 production.
On balance, a particular issue that many have with Thermocork is the price.
Cost Neutral means No Downside
Due to the extensive research and premium materials that go into producing such a high-quality coating, surprisingly the price is not any higher than that of monocouche renders when comparing sq2m coverage.
The Reassurance of Approved Applicators
As a premium coating, Thermocork can only be applied by one of CorkSols nationwide Approved Applicators, this gurantees quality and the finish is of the highest standards. Learn more about the approved applicator scheme here.
Investing in Thermocork is often seen as the cheaper and more effective option in the long run due to the savings you will make over time with reduced maintenance costs.
While the UK is hardly known for its tropical climate, it's not uncommon for the sun to come out and the temperature to rise from June to August. That's all…
When you hear the word "insulation", it's only natural to think about keeping your house warmer in winter. But with cooling insulation material, you can actually keep the temperature down…
Summer houses are a great option if you want to add a versatile space to your garden. But they can get a little too warm in summer and cold in…