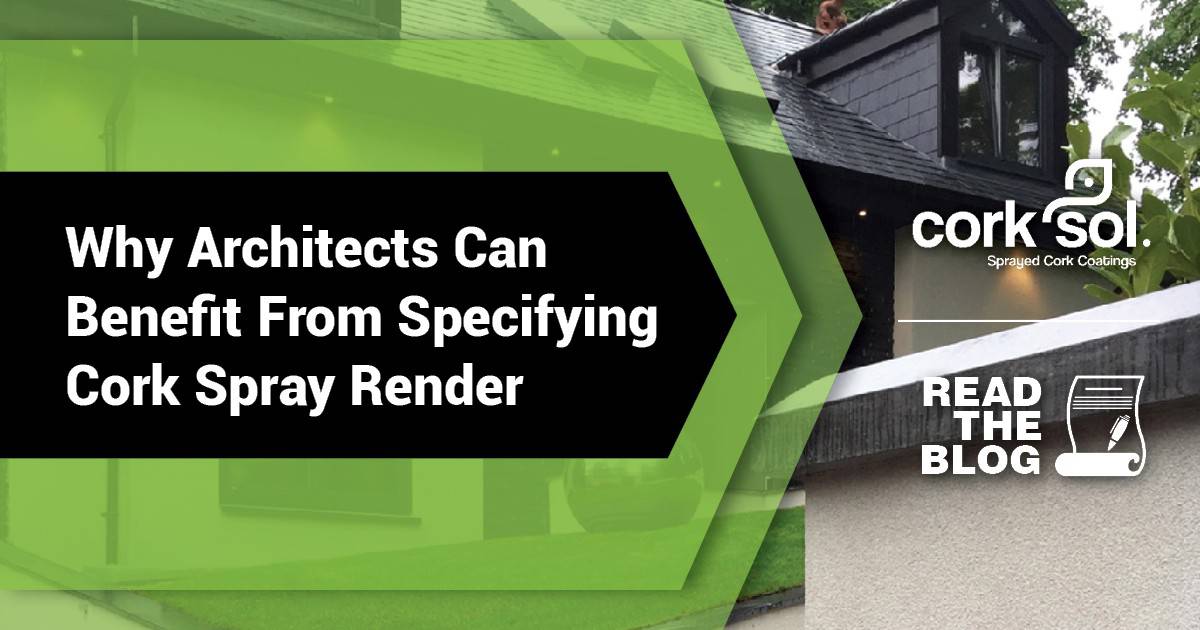 Share Why Architects Can Benefit From Specifying Cork Spray Render on your favourite Social Media Channels
Why Architects Can Benefit From Specifying Cork Spray Render
A number of industry specialists have discovered the benefits of cork spray in recent years.
Unlike more traditional renders, cork spray provides a flexible and durable insulation solution for a wide range of different buildings and structures.
Industry Thought Leaders
Many forward thinking architects, whether they are designing residential structures, commercial outlets or industrial buildings, are now choosing to specify cork spray render when drawing up plans.  
This focus ensures that their client's eco needs are met and the project is completed to a high standard.
Since the development of cork render spray, architects within the building design industry have been able to tap into a number of pratical, creatve and budget benefits.
On a business level too, the many environmental and economic benefits of using cork spray render to insulate homes and other building projects can help architects diversify their portfolio and provide a wider range of design options.
Here are some more examples of how architects can benefit from specifying cork spray render.
Eco-friendly
One of the biggest advantages that cork spray holds over the majority of other renders is the fact that it is made using ethically sourced material.
It is one of the most eco-friendly products on the market, especially when compared to traditional monocouche renders.
This is good news for architects working on projects that demand environmentally friendly and sustainable raw materials and maintenance.
Not only that, specifying cork spray render means that architects can also provide more tailored design services to property developers or business owners looking to invest in green property with low environmental impact.
Economic benefits
When it comes to designing buildings and property developments projects, one of the most important aspects that project managers and developers consider is cost.
There is often a need to try to find a compromise between quality and cost. It's important for an architect to create a design that meets all of the necessary criteria while staying under the designated budget.
Although cork spray render is initially more expensive than some other render options, in the long run, it's actually more cost effective and results in buildings with lower maintenance and running costs.
Cork render is naturally more hard-wearing and has a much longer lifespan thanks to its weather-proof qualities.
Unlike many other external renders, cork spray requires no maintenance for a much longer period of time.
Many other types of render often begin to crack and shows signs of weathering which means frequent repair and maintenance expenditure.
Specifying cork spray render allows architects to save their clients more money in the long run.
Design creativity
In terms of design, cork spray render is favoured by designers and architects thanks to its versatility in terms of colour.
Cork spray render is available in a wide variety of shades which means it's suitable for use across a range of industries.
Whether you're an architect working with a private client to design a new home or collaborating with a developer on a new commercial property, the diversity of cork spray means much more creative freedom across different buildings and structures.
The render can be used internally and externally in a range of shades and colours, which opens up new possibilities for building owners.
Diverse portfolio
Thanks to the long list of environmental, design and economic benefits that come with specifying cork spray render, architects are able to provide services to a much wider client base.
It can often be difficult for architects to cater to the needs of every potential client in a saturated industry that is constantly growing but showing an in-depth knowledge when it comes to innovative new materials demonstrates versatility and capability.
For example, if you are hoping to work with clients that have specific needs in terms of eco-friendly materials, you can cater to their needs with cork spray render.
Also, the natural versatility of the material means that you can market yourself as an architect that specialises in specifying the best materials for the job.
New SprayCork reduces heat loss through walls by more than 30%.
Wall insulation is a vital feature for every property, allowing you to maintain a comfortable temperature without excessive energy use or sky-high bills. While new-build properties have well insulated walls…
While rendering has been around in some form for several centuries, spray render is relatively new on the scene. That can make it difficult for people to decide between spray…