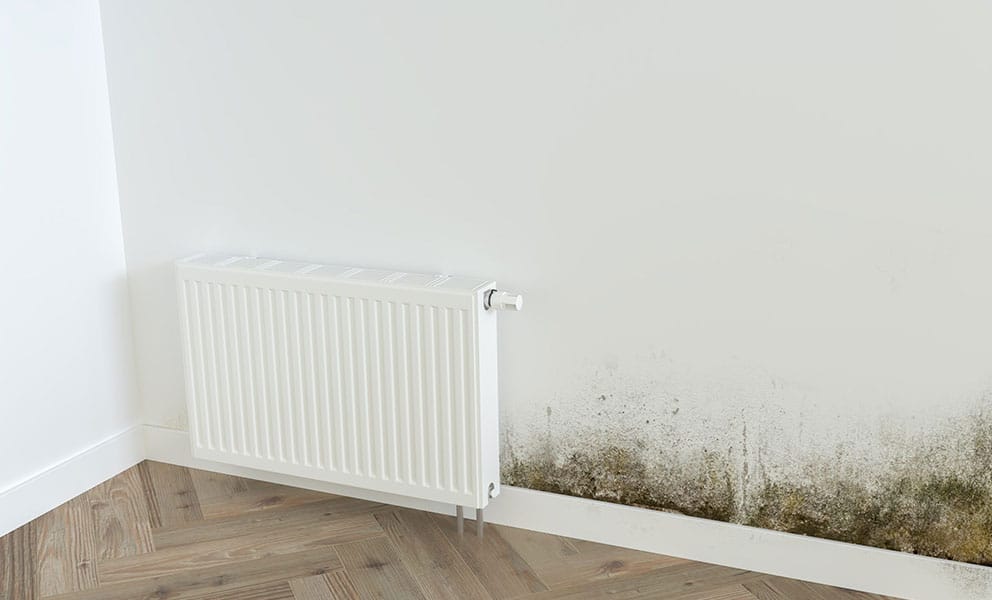 There are over 900,000 properties in England alone suffering with damp. Flats are certainly no exception. In fact, many suspect the opposite when inspecting problems with damp and mould in blocks of flats. So, are flats more susceptible to damp? Read on as we take a closer look…
Different types of damp for flats
The first distinction to make when it comes to flats' susceptibility to damp is which type of damp we're talking about. Below, we'll look at the three main types of damp and how flats are affected:
Rising damp
As the name suggests, this type of damp refers to moisture which rises from the ground through building materials. It's generally restricted to below one metre from ground level. As such, it only affects ground floor flats.
Are they more susceptible than the ground floor of a house? Not really. Rising damp occurs when the damp-proof course (DPC) fails, and there's no reason why this would be more likely in flats versus houses.
Verdict – Flats are actually less susceptible to rising damp, given that all those above ground level are exempt from the issue.
Penetrating damp
Penetrating damp is when water penetrates your property, most commonly through the roof or walls. Root causes include a leaky roof, broken guttering, cracked render and damaged pointing.
Are those problems more common in flats? Again, it's a no. However, they can be more problematic to repair, given that responsibility is shared.
Multiple flat owners might have to agree to split the cost of roof repairs or re-rendering, for example. Or there could be delays due to housing associations or private owners agreeing to foot the bill. As a result, water continues to get into the living space for longer, allowing damp to spread and worsen.
Verdict – Penetrating damp could be more common due to the slow process of communal repairs.
Damp from condensation
Finally, there's damp from condensation. This starts with high humidity inside a flat, where moisture is trapped inside the living space.
Moisture is released by everything from washing up and drying clothes to cooking, showering and even breathing. It should be able to escape if homes are properly ventilated. But all too often, they aren't – which can be due to poor day-to-day ventilation or inadequate ventilation on the property itself.
When the air inside a flat gets humid, condensation will form on surfaces like walls, ceilings and around windows and doors. That process happens quicker in poorly heated homes, where moisture is drawn to the cold surfaces.
Are flats more susceptible to this kind of damp? There's certainly reason to believe that's the case. As explained in our Shearsmith House case study, flats typically have more people living in less space, which leads to more moisture being created through activities like cooking and washing.
Additionally, humid air is lighter than dry air, which means it travels upwards. The result? The further up you go in a block of flats, the more humid the air is likely to be. This was echoed in our case study, where the contractor found that mould and condensation "only gets worse the higher up the block you go".
Verdict – Flats may well be more susceptible to damp from high humidity. That's due to more moisture being released and humidity accumulating upwards in blocks of flats.
What can you do about damp in flats?
There are no prizes for guessing how to eliminate penetrating damp or rising damp in flats. The cure is simply to repair the root cause or get the DPC repaired or replaced, respectively. But with flats seemingly more susceptible to damp from condensation, there are a few more steps involved to eliminate this issue:
Reduce moisture
The first step is to reduce the amount of moisture being released. While you can't stop cooking or showering, you might be able to dry clothes on a balcony rather than inside the flat, for example. Of course, this step isn't enough from one flat alone, given that there are so many different flats contributing to humidity levels.
Ventilate regularly
Similarly, people can improve ventilation day-to-day by using extractor fans in kitchens and bathrooms, or opening windows to air out the living space. As above, this is unlikely to achieve much in a single flat, as high humidity can easily spread throughout a building.
Keep the space warm
One thing that does make a difference in a single flat is warmth. If a flat is kept at a comfortable temperature, condensation is much less likely to be drawn to its walls and other surfaces. That said, there's never been a more expensive time to keep a flat warm with energy prices at an all-time high.
Improve ventilation long term
Believe it or not, some properties are just poorly ventilated full stop. That's often due to substandard 'improvements' through the years, which didn't take ventilation into account. At Shearsmith House, for instance, unreliable ventilation fans had been fitted in the extract ducts.
It's up to landlords or housing associations to fix these issues. Solutions can range from renewing extraction systems and cleaning out ductwork to updating windows and replacing non-breathable render or cladding which stops moisture escaping.
Stop condensation settling
Last but certainly not least is protecting the surfaces where condensation settles and damp forms. In this case, an internal coating of SprayCork is the perfect solution for walls and ceilings.
It's completely water-resistant, so damp can't form on the surface. It also improves insulation, so the surfaces don't become as cold. That's all achieved with a coating of around 8mm, so it doesn't impact on the space available inside the flat – unlike many of the alternatives.
Reduce flats' susceptibility to damp
Even if, by design, flats are more susceptible to damp from condensation, it doesn't mean you have to put up with it. SprayCork is used as an internal wall coating by contractors across the UK to prevent damp in both private and social housing.
If you'd like to find out more or arrange a quote from an approved applicator near you, simply contact our team on 01484 442420 or email info@corksoluk.com.