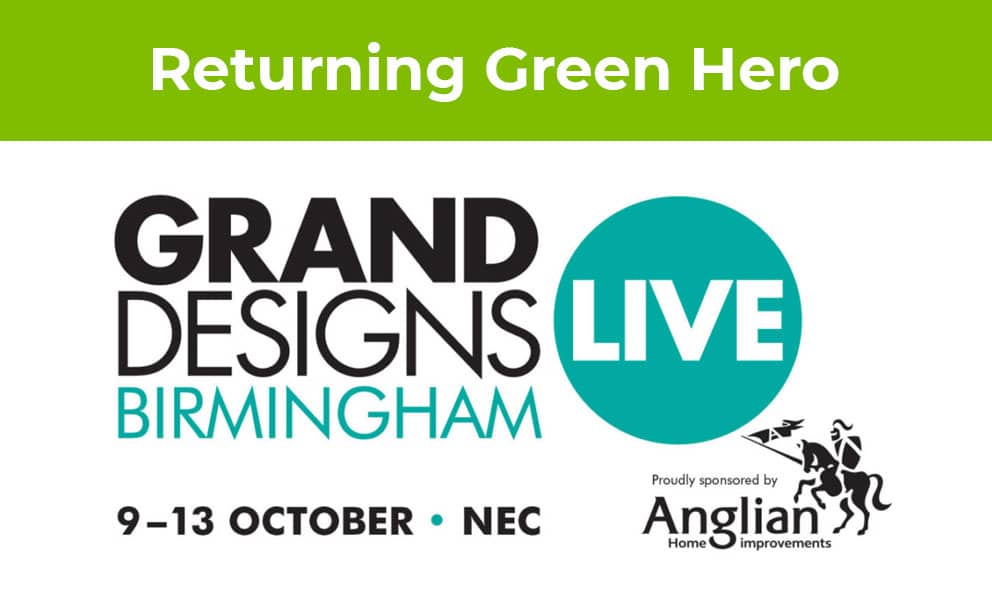 We are delighted to be returning to Grand Designs live as one of Kevin McCloud's Green Heroes for 2021. 
Back by popular demand, 'Kevin McCloud's Green Heroes' will return to Grand Designs Live Birmingham NEC, from 6th – 10th October 2021. This handpicked selection of the best eco-innovations will sit at the heart of the Grand Designs Live exhibition providing a platform for eco-conscious designers to showcase their innovative designs and products.
Kevin personally selects his top heroes for each show, from small-scale start-ups to big businesses setting a green example for the rest of the industry. From humble beginnings, we were first selected in 2015 as one of Kevin's Green Heroes and have gone on to expand from a garage in Yorkshire to new premises and a team of 9 Green Heroes of the cork world.
It's great to be back as at Grand Designs Live as a Green Hero again in 2021. We will be showcasing SprayCork, the new and improved product from CorkSol UK. It is a natural cork coating for internal and external insulation applications for new build and renovation projects. It is a sustainable, eco-friendly, high-performing and innovative solution for homes, industrial and commercial buildings. With a range of benefits, including the reduction of black spot mould, thermal insulation, water resistance, and an improved colour palette, CorkSol SprayCork is the original and most innovative spray coating available in the UK.
If you are going to Grand Designs Live this year please make sure you give us a visit!