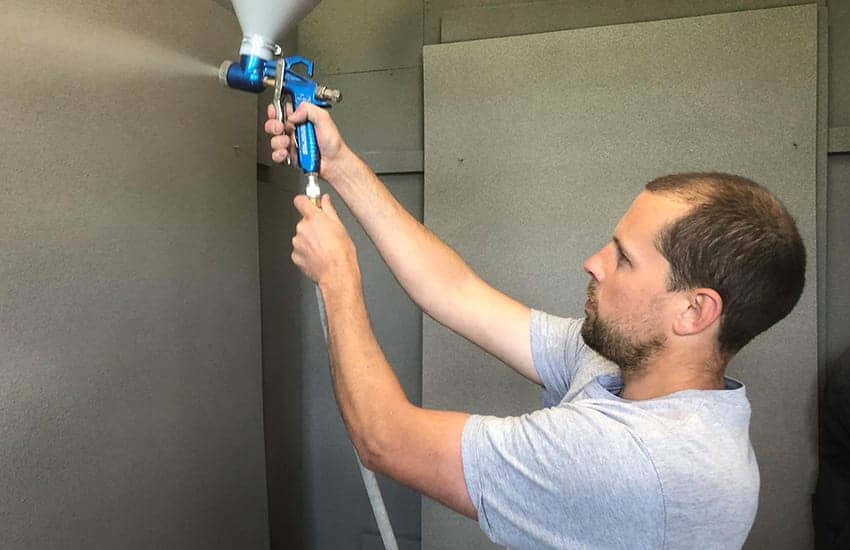 At Corksol, we're immensely proud of our innovative natural cork coatings which improve insulation, resist moisture, and provide a durable finish for walls. But to unlock those benefits, customers need an Approved Applicator.
From plasterers to painters, these highly skilled tradespeople provide customers with flawless, professional installation. Drawing on our expert advice and training, they make sure their customers can reap the rewards of spray cork.
But there are also plenty of incentives for our national network of Approved Applicators. In this post, we'll look at five benefits of becoming a Corksol Approved Applicator, based on feedback from those who've already completed the course.
1. A great product for your customers
"Outstanding", "amazing" and "undersold" with a "big future". These descriptions of our products are all taken directly from feedback forms given to applicators who have completed our training.
Once you've completed the Corksol Approved Applicator course, you too can offer Corksol coatings – including the flagship CorkSol SprayCork coating – to your customers. That's easily the biggest benefit.
As exclusive distributors in the UK, we can give you full assurance that only Approved Applicators have access to our products. That puts you at a distinct advantage, being able to offer a truly unique product and service to your customers – with outstanding results to match.
2. Set yourself apart from the competition
As well as adding another string to your bow, Corksol application is a great way to set yourself apart from the competition. The feedback forms we provide at the end of our training ask participants whether they would recommend the course to a friend or colleague.
While the overwhelming response is "yes", several participants commented that they might prefer to keep the expertise and extra work a secret. "We want it for ourselves," said Chris Halford of HSF Systems, while Steve Gatfield of WP Rendering jokes "No, I want all the work." Luke Field of Wall Coating Solutions suggested they would recommend it "so long as they are not too close"
3. Increase profits
One of the stand-out findings from our feedback forms came with regards to company profits. When asked whether they feel their profits will increase using Corksol, after completing the course, 100% of respondents said their profits will increase. Of those, a whopping 61% said they expect profits to increase significantly.
This highlights probably the most obvious benefit of becoming a Corksol Approved Applicator for you and your business. Quite simply, you'll be able to make a lot more money.
4. Make life easier
Whether you're a plasterer, painter or a home improvement handyman, Corksol removes the need for back-breaking renovation work. It's applied using a machine, so you don't have to be up a ladder or down on your knees for hours on end.
Despite improving results, it will actually reduce your labour costs, with the option to pass savings onto your customers or just increase your profit margins.
5. You'll enjoy it
Above all else, the feedback to our course shows that it is informative, helpful and enjoyable. As well as broadening your skillset, you'll have a great time in the capable hands of the Corksol team. Here's just a few of the countless positive comments about our one-day training…
"Great course, great team. I am looking forward to see Corksol grow in the UK." Richard Sheppard, RS Rendering
"Very happy with the course, I am really excited and egar to get going with the product!" Adam Batemen Sussex Eco Coatings
"Everyone on the course was great, really easy to get on with. I'd totally recommend it." Leigh Griffiths, The Tape Slayer
"100% happy with the course. I wish I had completed it earlier." Mark Hazeldine, Eco Green Homes
"Really enjoyed the course and very impressed by the products." Neil Taylor, Cotswold Cork Coatings
"The course was great, very informative and interesting. Feel very confident going forward, by far the best course I've been on." Dave Calvert, Lancashire Coloured Renders
Find out more
Want to improve results, reduce labour, and increase your profits? Find out more about the Corksol Approved Applicator course today. Contact our team to discuss training in more depth or book your place.